Jim Lee Original Batman Sketch from 2018 MegaCon Orlando
by Dave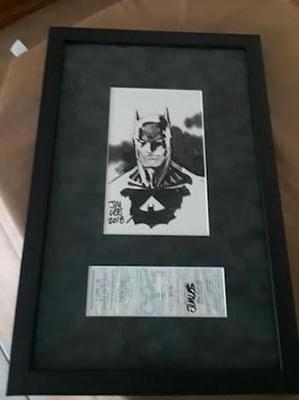 Original Jim Lee Batman Sketch from 2018 MegaCon Orlando
Hi,

I have was the recipient of a Batman sketch from the 2018 Megacon in Orlando. He gave it away during the Q&A to anyone with a taco bell receipt. I had the receipt.

there is a youtub video of him drawing the sketch and of me receiving the sketch. The sketch is signed and so is the Taco Bell receipt. The sketch and receipt have been framed and is my wall.

Looking at the prices I think I might want to get it insured and I'm wandering if I should and for how much.

Thanks,
David

Hi David. Who says eating fast food is bad for you? :)

You're right. Jim Lee comic art is very popular at the moment, and prices reflect the demand.

It looks to me as if your sketch is worth between $400 and $1,100.

The best comparable I found on eBay was this CBCS certified sketch. It's not identical because it's one of a series of 50.

Yours is a comparable size and quality.

I would insure your sketch for $1,500. That's probably what it would cost to replace it.
Join in and write your own page! It's easy to do. How? Simply click here to return to Free Comic Art Appraisal.
Click to Get a Free Appraisal of Original Comic Book Art!
Please Share Our Site Using These Buttons
Want to Sell Comic Books?


If you have comic books you'd like to sell or have appraised, then please visit our sister website,
Sell My Comic Books.