Mickey Mouse Original Comic Strip
by Phillip J. Speciale
(Chicago, Il)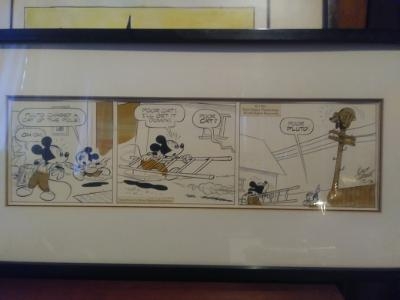 I have an original Mickey Mouse daily comic strip from 1965 by Floyde Gottfredson dated 1965. Distributed from King Features Syndicate. Purchased from Circle Gallery in Chicago around 1982.

Editor's reply:

Thank you for sharing the images of this cool item.

Similar pieces from the same year have sold for between $500 and $700.

I think you can be confident in getting $350-400 for it from a dealer. You might do better to sell it yourself on eBay, if you have the time and/or the skills to do so.

If you'd like to sell it to us, then we would definitely buy it. Nice item. I hope you've enjoyed owning it.
Join in and write your own page! It's easy to do. How? Simply click here to return to Free Comic Art Appraisal.
Click to Get a Free Appraisal of Original Comic Book Art!
Please Share Our Site Using These Buttons
Want to Sell Comic Books?


If you have comic books you'd like to sell or have appraised, then please visit our sister website,
Sell My Comic Books.