Neal Adams and Jim Aparo Aquaman Original Art
by Virginia Sands
(Eugene Oregon)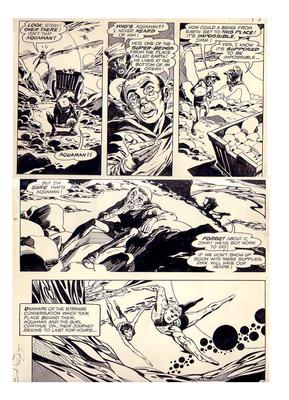 Neal Adams and Jim Aparo Aquaman Original Art
Neal Adams and Jim Aparo Aquaman Original Art

After some research- I have page 13 from Aquaman # 51 from June 1970 signed by Stephen Skeates.

The internet credits Stephen Skeates as the writer, Neal Adams Artist, Writer and Jim Aparo inker, letterer, penciler.

Half of the info on the top is cut off.

Editor's reply:

Thanks for sharing this page. We think it will sell for $700-900 and we are prepared to pay you $500 plus shipping if you wish to sell it. Nice page!

See our detailed Neal Adams original art price guide.
Join in and write your own page! It's easy to do. How? Simply click here to return to Free Comic Art Appraisal.
Click to Get a Free Appraisal of Original Comic Book Art!
Please Share Our Site Using These Buttons
Want to Sell Comic Books?


If you have comic books you'd like to sell or have appraised, then please visit our sister website,
Sell My Comic Books.