Neil Adams numbered pencil sketches
by Mike Shewfelt
(British Columbia, Canada )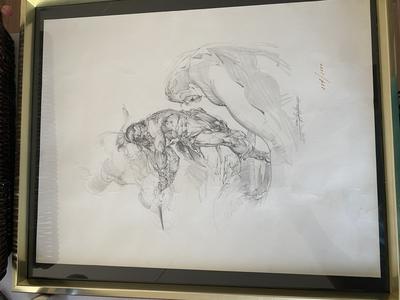 Neil Adams numbered pencil sketches
Neil Adams numbered pencil sketches

I'm not sure where or how long my father had these pictures. They are dated 77 and can remember them as a kid.

I've carried these around for 30+ years and have no interest in hanging or framing them.

My questions are what are they and are they worth selling. The pictures are not in great shape, the conan and slug is framed, the other 2 were kept dry in separate poster tubes, all 3 are wrinkled to some extent.

Editor's reply:

Thanks for writing. These are really nice sketches. Unfortunately, unpublished art is not very valuable. I think these will sell for s couple of hundred bucks each. Alternatively we will pay you $300 for the set snd roll the dice ourselves.

You'll need to get in touch as I don't have your contact info.
Join in and write your own page! It's easy to do. How? Simply click here to return to Free Comic Art Appraisal.
Click to Get a Free Appraisal of Original Comic Book Art!
Please Share Our Site Using These Buttons
Want to Sell Comic Books?


If you have comic books you'd like to sell or have appraised, then please visit our sister website,
Sell My Comic Books.