Original Art Batman #344 Title Splash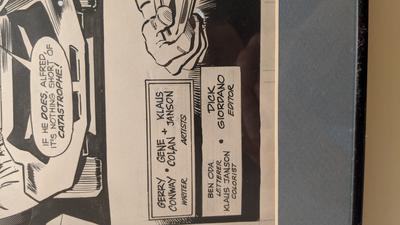 Original Art Batman #344 Title Splash
Hi!

I have the title page from Batman #344 (Monster My Sweet). I bought it--I'm guessing--at least 15 or 20 years ago from a local comic book shop (I thought it would be cool to own).

It was framed when I bought it and I haven't taken it out. It's hanging in our upstairs hallway where there is no direct sunlight at all. I don't think it's in any type of archival quality frame.

I've been on-and-off thinking about selling it for years. I just never got the bug to collect original art.

Looking online it's been difficult to get an idea of what it would be worth. I see all kinds of prices for Colan's work--not much to do with Batman though.

Thanks for any help you can offer!
Mike

Editor's reply:

Thanks for sending the photos. Cool piece!

The only comparable sales I could find were both in the $200-250 range, but they were a long while ago.

I would expect this piece to sell for perhaps $500 today.

You did not include your email address, so I have no way to reach you.

If you're interested in selling it then please get in touch via the website and we will talk.
Join in and write your own page! It's easy to do. How? Simply click here to return to Free Comic Art Appraisal.
Click to Get a Free Appraisal of Original Comic Book Art!
Please Share Our Site Using These Buttons
Want to Sell Comic Books?


If you have comic books you'd like to sell or have appraised, then please visit our sister website,
Sell My Comic Books.