Randy Emberlin Sketch of Carnage, Spider-man, and Venom
by Thaine
(Portland, OR)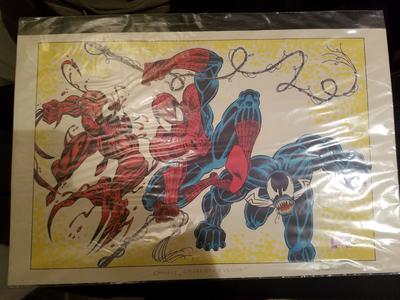 Randy Emberlin Sketch of Carnage, Spider-man, and Venom
Randy Emberlin Sketch of Carnage, Spider-man, and Venom

Signed 11x17 drawing by Randy Emberlin, Spider-man cover artist, of Carnage, Spider-man, and Venom in sleeve dated 1996

Thanks for writing to Sell My Comic Art.

Convention sketches or paintings are less popular (and therefore less valuable) than published work.

Pieces used to create comic books, graphic novels, trading cards, posters and other promotional items are far more desirable.

That said, this is a popular subject. Venom and Carnage are hot property at the moment, and the piece is well rendered. It's by a less popular artist, but that doesn't mean it won't find a new home.

I would list it on eBay as an auction, and let the market decide what it's worth. I expect it to sell for between $120 and $250.

Good luck with your sale!
Join in and write your own page! It's easy to do. How? Simply click here to return to Free Comic Art Appraisal.
Click to Get a Free Appraisal of Original Comic Book Art!
Please Share Our Site Using These Buttons
Want to Sell Comic Books?


If you have comic books you'd like to sell or have appraised, then please visit our sister website,
Sell My Comic Books.