The Crow Portfolio Prints Signed
by Krystian
(Wisconsin Dells, WI)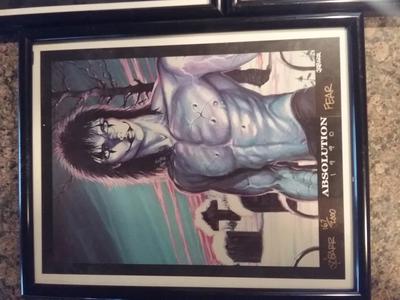 The Crow Portfolio Prints Signed Absolution 167 of 2000
The Crow Portfolio Prints Signed

1) ABSOLUTION is signed JO'BARR 167/2000 1990 FEAR

2) Despair

3) Irony

4) Fear

5) Pain

6) Death

Editor's reply:

The Crow is a popular comic book series, especially the first printings of the first series.

Unfortunately your set is a reproduction limited edition. A similar set is sitting on eBay for $100 with no takers.

I expect your set will sell if you auction it. All the best of luck.
Join in and write your own page! It's easy to do. How? Simply click here to return to Free Comic Art Appraisal.
Click to Get a Free Appraisal of Original Comic Book Art!
Please Share Our Site Using These Buttons
Want to Sell Comic Books?


If you have comic books you'd like to sell or have appraised, then please visit our sister website,
Sell My Comic Books.