Value of Original Carmine Infantino Comic Art

Click to Get an Appraisal!
Carmine Infantino comic art price guide
Infantino is known for redesigning The Flash and Batman and launching the Silver Age of comics. Because of his legendary and inspiring work, Carmine's original art is still prized and widely collected decades later.
With Carmine's 50 year long career, illustrating hundreds of covers and interior pages, many of his works from the 1950s through the 1970s are being bought and sold on a daily basis.
Facts About Original Infantino Comic Art

Record Sale for Artwork:
$167,300 (The Flash #137 Cover)

Key Comic Book Issues (click to view current market values.
How Much is Carmine Infantino Art Worth?

Much of Infantino's original comic art sells for $1,000 to $3,000.
Most of the original artwork for The Flash have sold for five and six figures, proving what collectors are willing to pay to get their hands on his artwork.
Below are some examples of Infantino art which has sold in the past. 
If you've got original comic book art you wanted valued Absolutely FREE, use our free comic art appraisal service to get a quick and accurate valuation. Click the button below to begin.

Click to Get an Appraisal!
History of Infantino in Comic Book Art
Infantino got his start by inking the feature "Jack Frost" in USA Comics #3 for Timely Comics, the forerunner of Marvel Comics. That small issued proved invaluable to his career, and Carmine freelanced for several publishers for several years. 
In the mid-50s, Carmine reintroduced The Flash, a character that had been pushed aside for nearly 10 years, in DC's Showcase #4. The sleek, futuristic look of the reboot was a hit and soon, Carmine was the top artist for ushering in the upcoming Silver Age.
Possibly even more popular than the new-and-improved Flash was the revamp of Detective Comics' Batman.
The new look Batman's athletic build and signature yellow oval around the Bat-emblem would last for decades, transitioning into film and the live action TV series of the '60s. With Detective Comics #359, Carmine introduced a new Batgirl.
Though the art itself is smooth and at the time modern, the designs of his cover art and his experimentations inside the pages may be what helps Infantino's name live on.
From breaking the "fourth wall" with Flash #163 to changing the layouts and between-the-cover panel designs, Carmine was a true innovator.
Infantino Interior Comic Art
The influence and redesign on Batman and The Flash are paramount in Carmine's accomplishments, yet he had his hand in many different titles, including the creation of Phantom Stranger, Deadman, and Batgirl.
Here are some examples of Infantino's work from DC and Marvel's most popular titles.
Avengers
#178, #197, #203, #244 (1978–84)
Batman
#165-175, #177, #181, #183-184, #188-192, #194-199, #208, #220, #234-235, #255, #258-259, #261-262 (1964–1975)
Detective Comics
#327, #329, #331, #333, #335, #337, #339, #341, #343, #345, #347, #349, #351, #353, #355, #357, #359 (1st Barbara Gordon / Batgirl)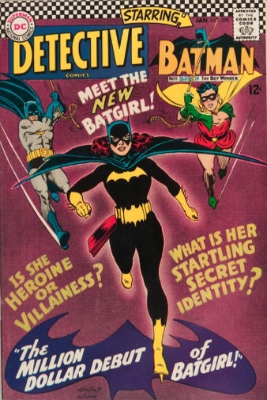 Detective Comics 359
The Flash
#105 March 1959, #110 (1st Kid Flash) Dec 1959, #117 (1st Capt Boomerang) Dec 1960, #296 April 1981 - #350 October 1985
Green Lantern
#53, #137, #145-147, #151-153
Iron Man
#108-109, #122, #158 (1978–82)
Phantom Stranger
#1-3, #5-6 (1952–53)
Showcase
#4, #8, #13, 14 (1956–58)
Star Wars
#11-15 (1978)
Supergirl
#1-20 (1982–84)
Modern Comic Art by Infantino
Infantino passed away in April of 2013 and hadn't been involved in much work in the decades before his passing.
In the late 80's through the beginning of the 90's, he was involved in The Daring New Adventures of Supergirl and was one of the final artists in the Batman newspaper comic strip that ran until August of 1991.
Click to Get a Free Appraisal of Original Comic Book Art!
Go from Original Carmine Infantino Art to the Sell My Comic Art home page

Please Share Our Site Using These Buttons
Want to Sell Comic Books?


If you have comic books you'd like to sell or have appraised, then please visit our sister website,
Sell My Comic Books.